Question and answer section
Need a Locksmith?
Check out our Repair Referral Service
Delivery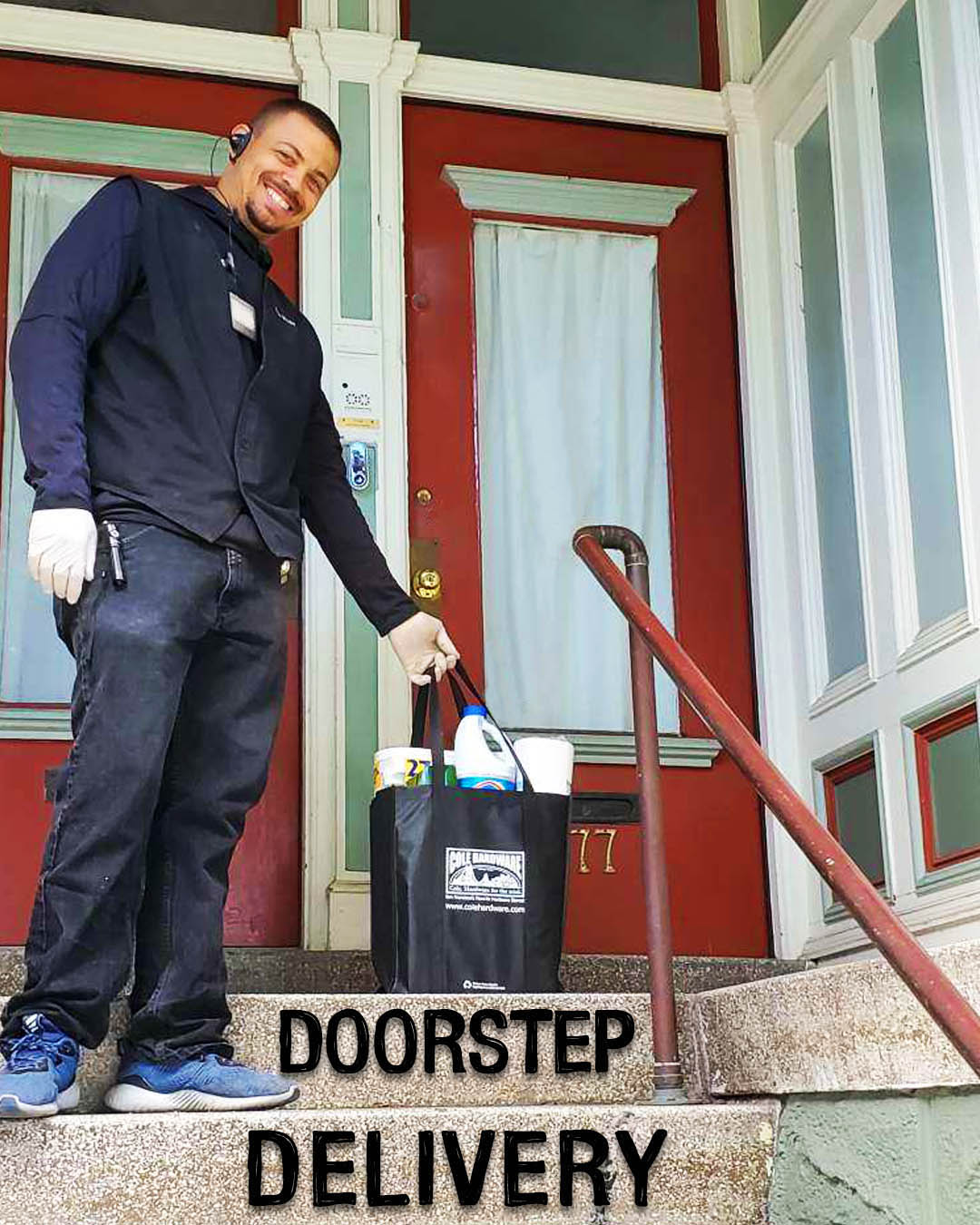 We understand that shopping during shelter-in-place may be difficult. For your convenience, we offer doorstep delivery. Just call us with your order, let us know if you'd like delivery, and we'll make arrangements and get your items to you as soon as we can. Business orders are welcome too. 
$20 for deliveries requiring one of our crew members (smaller items we can carry to your doorstep).
$40 for deliveries requiring two crew members (grills, bags of soil, large patio furniture, etc.).
Locksmith Services
When You Need to Make Keys, Cole Hardware Can Help!
Proudly Serving the San Francisco & Oakland, CA Areas
As part of our locksmith services, we cut and make keys at all our stores, including hard-to-replicate computer ChipKeys for automobiles. We have an expert locksmith on duty Monday through Friday at our Downtown store—call (415) 200-3444.
Locked out? We can also send a locksmith to your home or business 24/7—call (415) 760-5625 to reach our 24-hour locksmith, Marc, directly. (24/7 service available in San Francisco only.)
Recycling
All services are subject to shelter-in-place restrictions, please check with the stores for up to date information.
You can bring your old paint (liquid paint only—put dried paint cans into your own recycle bin, lids off), used rechargeable batteries (nickel-cadmium), empty toothpaste tubes, cell phones, expired printer cartridges (no toner), soft plastics (Rockridge store only), spent small propane tanks (San Francisco stores only), spent fluorescent bulbs, and mercury thermostats into any of our stores, and we will send them off to be recycled into new products.
Paint and Color Matching
Custom Paint Matching Services
Serving San Francisco, CA & the Surrounding Areas
Looking for that perfect pink? Exact eggshell? Specific sienna? We have terrific paint matching computers. Bring in a swatch of fabric or a quarter-size paint chip, and our staff can match just about any color. In addition, we can match our line of Benjamin Moore paints to the colors of many other brands on the market if you know the name of the color.
Sharpening Services
Is your kitchen cutlery dull, making your gourmet dishes a bit difficult to prepare? Professional knife sharpening is available at all locations on alternating weeks. Our craftsman Matt can also sharpen serrated knives, scissors, shears, axes, chisels, garden tools, food processors, mandolins, and paper cutters. He can also repair knives. Contact store for dates and times or see our events calendar.
We offer knife sharpening while you wait at all locations. Resharp® your knives at any of our locations with our new Resharp patented grinding, blade-sharpening machines. With unprecedented speed, you get all your knives sharpened in a fraction of the time of other methods, about a minute per knife. The Resharp system sharpens American, European, Japanese manufactured knives with a V-shaped bevel. Unfortunately, it does not sharpen serrated, scalloped, single bevel or ceramic knives. Bring in your chef, paring, slicing, chopping, Santoku, pocket, hunting, and specialty knives to sharpen while you watch.
Cut to Size
Custom Cutting Services
Need some wood or pipe cut? Let us do the work for you. Our stores offer cutting services on a variety of products: pipe, wood, window shades, glass, and plexiglass. See store for details and prices on cutting services.
Tool Rental Services
All services are subject to shelter-in-place restrictions, please check with the stores for up to date information.
We rent tools, rug cleaners, and moving totes! Do you need to drill holes in order to hang that new planter? Do you want to cut a few pieces of wood to make some shelves? Maybe you need to use a post-hole digger to fix your backyard fence, or you want to get those carpets cleaned before company comes over this weekend. Or you want to finally fix the drip coming from your showerhead, but you don't have the wrench that will reach deep into your tiled shower wall.
Projects like these take special and often expensive tools. And let's face it, even though we'd love to sell them to you, not everyone can afford them, has the space to store them, or has an interest in developing their own tool collection (that one's tough for us to understand!). We came to these realizations years ago and have been renting the tools that we sell ever since. If you ask (and ask, you do), we will gladly get our drill, extension ladder, or 100-foot extension cord and rent it to you by the day. In fact, we rent tools, ladders, rug cleaners, garden shovels, moving totes, and much more!
Our tool rental assortments vary by location. Just inquire at any of our locations.
UPS Shipping Services
All services are subject to shelter-in-place restrictions, please check with the stores for up to date information.
All San Francisco Cole Hardware locations are UPS Access Points™.
Being at home for package deliveries isn't always convenient when you've got places to be. Shipping your online purchases to your workplace or office can be awkward if a colleague mistakenly opens a package. That's why Cole Hardware's North Beach, Russian Hill, and SoMa locations are now part of the UPS Access Point network that offers you a safe place to pick up your shipments—at your convenience. Redirect your packages to Cole Hardware before UPS makes a first delivery attempt to your home with a UPS My Choice membership. You can even choose a default location to send your packages for free. If you are not home when UPS attempts to deliver your package, they will drop off your package with us for you to pick up.
This way, it's not sitting on your doorstep for anyone to nab. Just bring identification with you when you come to retrieve your delivery.
Shopping for shoes and clothes online can often result in the need to return merchandise if it doesn't fit or the quality isn't what you want. You can now drop off your return packages with us too! Just make sure it has a UPS return label. No need to find a UPS store. And with our everyday hours of 8:00 am–8:00 pm at North Beach and Russian Hill, and 8:00 am–6:00 pm at SoMa, you can pick up or drop off a package on your time frame. UPS My Choice also allows you to print labels and then drop packages off with us to ship your cookies and gifts to family and friends across the country.
Commercial Sales
Commercial Hardware Sales
Serving Commercial Customers in the San Francisco, CA Area
Our Cole Hardware Supplies crew serves commercial customers that range from property management firms, Bay Area municipal entities, and various county and city agencies. Specializing in creating low-cost, customer-friendly programs, the Supplies team's expertise is in sourcing hard-to-find items and large quantities at the lowest cost. And we offer friendly, free delivery with this service too.
And So Much More!
Click here to download a PDF of our ever-growing list of services!